Dual Immersion Academy Providing 21st Century Options for Parent School Students
Dual immersion is well underway for students at Frank D. Parent School providing students with literacy and academic content in both English and Spanish beginning at kinder and 1st grade for a minimum of six years.
The goal of dual immersion is to provide students high levels of language proficiency and literacy in both languages that foster academic achievement, and an appreciation and understanding of diverse cultures. "We are excit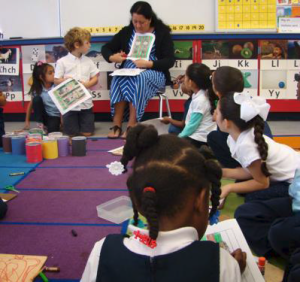 ed about our dual immersion program and its success in working with each child in our care to find his/her unique abilities and gifts," explains Principal Garry Gregory. Two-way language immersion programs are based on years of research from foreign language immersion models that conclude students perform as well as or better on tests of English than their English-speaking peers who have been instructed only in English. "21st Century society is truly a global society and being multilingual opens doors and changes lives," added Dr. Stephen McCray, IUSD's Executive Director of School and Community Relations. "Students who graduate from this program at Parent will be both bilingual and bi-literate, more qualified to enter college, and prepared to work and communicate cross-culturally in a world that becomes more international every day."
Parent School recently opened its doors to the community to experience their dual immersion classrooms first hand. Miriam Morris, a Ladera resident and mom shared her enthusiasm about her tour experience and the program. "Like all parents, I want my child's education to serve as a launching pad for achieving his hopes and dreams in life. America is part of a global economy, so speaking more than one language gives you a leg up. But even more important than that, by becoming bi-literate, my son will have a greater appreciation of cultural differences."
With such a high demand for dual immersion education programs, future parents also toured the academy and spoke with teachers and administration about current program offerings. "It makes me think of the possibilities," said Alka Patel. Alka's daughter is currently enrolled in a French immersion pre-school program and would love the idea of extending her instruction through k-6. "It would be a dream come true to have another language in place at Parent School by the time Anika begins as a kindergartener in 2017, and I don't think it's impossible to have this happen given the growing population of young families."
Parent School is proving daily that public education is still the best option for students. "The future of Parent School's Dual Language Immersion Academy is secure and continues to grow," says Principal Gregory. "Residents of Ladera are returning and we are excited about our partnerships with the community, and incredibly dedicated staff."
For more information on the Parent School Spanish Dual-Language Immersion Academy, call 310.430.4049 or email us at ggregory@inglewood.k12.ca.us.